Payment Instructions
here are 3 different "Payment Methods" you can use:

1) Bank Transfer
2) Cash in Envelope
3) Contact us for the details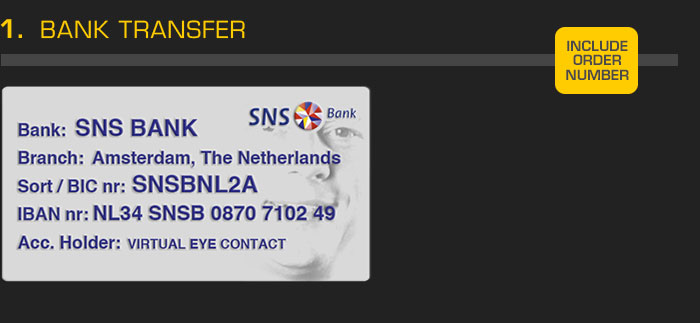 Transfer the total amount of your order including the shipping costs to our bank account. Include your ORDER NUMBER!

This payment method is 100% guaranteed and prefered by most customers.
| | |
| --- | --- |
| Account Holder: | VIRTUAL EYE CONTACT |
| IBAN: | NL34 SNSB 0870 7102 49 |
| SORT / BIC: | SNSBNL2A |
| Bank: | SNS BANK |
| Branch: | AMSTERDAM, THE NETHERLANDS |


IMPORTANT: INCLUDE YOUR ORDER ID AS A REFERENCE IN YOUR BANK TRANSFER
OTHERWISE WE CANNOT FIND YOUR ORDER!

PLEASE NOTE, THAT BANK COMMISSION IS NOT INCLUDED IN THE PRICE,
SO DO ASK YOUR BANK ABOUT IT, AND ADD THE BANK CHARGE AMOUNT IF NECESSARY.

* This bank account is for retail customers of the GHSC webshop only.
It is not to be used by wholesale customers.

ATTENTION:
WE DO NOT ACCEPT WHOLESALE ORDERS ON THE WEB!
(FOR WHOLESALE ORDERS PLEASE CONTACT US BY FAX AT: 0031-20-4273059)

After we have received a full payment of the order on our bankaccount or by cash we will start preparing the order.
These are the estimated times:
| | |
| --- | --- |
| Holland | 3 or 4 working days |
| Europe | 5 to 10 working days |
| Outside Europe | 2 to 4 weeks |
For some countries it may take a few days longer.


Send us Cash in EURO bills by registered post, include your name, order Number and email address or a copy of your invoice.

P.O BOX
12507
1100 AM
AMSTERDAM ZUIDOOST
THE NETHERLANDS



IMPORTANT:
(1) INCLUDE YOUR ORDER ID OR A COPY OF YOUR INVOICE WITH THE CASH SENT IN AN ENVELOPE.
(2) YOU MUST USE REGISTERED MAIL FOR GUARANTEED DELIVERY OF YOUR MONEY.

PLEASE READ CAREFULLY:

Hide the cash in the envelope properly. We advise you to use a plastic envelope and place the money between a carton greeting card.

MAKE SURE THAT THE ENVELOPE IS SEALED SECURELY SO THAT A POTENTIAL THIEF AT THE POST OFFICE WILL HAVE DIFFICULTIES OPENING THE ENVELOPE QUICKLY.

The longer it takes for someone to open an envelope, the more chance they have of being caught by their supervisor at the post office. You can also use a empty cd case or something similar.

*PLEASE SEND YOUR ENVELOPE WITH REGISTERED MAIL!!!

The Green House Seed Company does not assume any responsibility for money lost in the postal mailing system. It is the customers own responsibility to make sure their envelope is tamper proof.



The transaction uses a secure anti-fraud system Weldpay. All credit cards are accepted and in the case of non-receipt of an order, customer protection is in place through the anti-fraud service